I ran across this article today and thought I would share. For those who are just tired of the cold and snow there are a lot of blogs to read.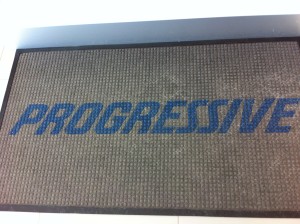 I cannot express how much I am sick of winter. One of the things I hate about the cold weather is the slick roads. And wouldn't you know it, I got hit last week by someone who slid in the snow into my car.
Luckily, no one was in the car at the time, but there was quite a bit of damage to the fender. I was not looking forward to dealing with the insurance companies, but alas, it had to be done.
The other driver's insurance was Progressive, you know the one on tv with the quirky woman named Flo? Well,when I called, the insurance guy wanted me to go to their service center to get the repairs done. Only problem was the service center was about 40 minutes from my house. I had no intention of driving that far when I could just pop down to the local garage. But Joshua, the polite agent with whom I spoke, assured me if I did go to the Progressive center I would be in and out in 15 minutes with a new rental to use while waiting for the repairs.
Hmmm, now that got me thinking. I wouldn't have to hassle with a car rental place and submit papers for reimbursement. "Are you sure, Josh, I'll be out in 15 minutes….???" Of course, Josh said yes, what else was he going to say? So I blocked off a 4 hour chunk of time (hey, I'm no dummy) for the next morning to take care of things and headed off to Progressive.
No big deal, I thought, I'll just listen to a training cd in the car on my way there. I'll get some coffee. It's suppose to be sunny. Maybe it'll be a little mini-escape from the rest of my responsibilities. Just me and my joe and hours of reading magazines while I wait for the rental.  But no such luck. I was in and out of there in 15 minutes!!!!
I cannot tell how fantastic my experience was with Progressive and they aren't even my insurance carrier. They epitomized what stellar branding is all about. From the minute I picked up the phone to the minute I picked up my car, they were consistently top-notch.
When I arrived at the service center, a sweet young woman was standing with a clip-board waiting at the front door for me. (Josh had called ahead.) She smiled and opened the door for me. I was then led over to the counter, where she had all my paperwork ready to go, and my rental ready. When she found out I have 3 kids, she immediately suggested they pull up a bigger SUV so the kids wouldn't feel cramped in the back. Boom, it was there in 5 minutes. Talk about customer service. This was spectacular.
Not only were the people wonderful, the environment was spotless. When I walked in, the place was sunny, open and inviting. There was a beautiful seating area for adults and a separate little space with a table and wide screen tv for kids. There was even a complimentary drink counter with everything from diet coke to hot chocolate. Pretty much everything you'd need to feel comfortable while you wait, only I didn't have to wait because they were so fast. And did I mention the branding?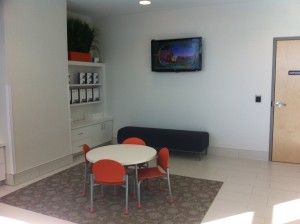 This place gets a 5-star rating for brand management. The decor was branded, the pens were branded, the floor mats were branded and of course, there were not one, but two giant cut-outs of Flo. They even gave me a little blue and orange carry bag with Flo's picture on it to tote my belongings from my car while it's being fixed. They literally thought of everything. So cool.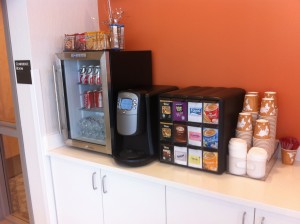 When was the last time you were blown away by a customer service experience, in a good way? When was the last time you were wowed by a company's branding? When it happens, you pay attention.
I was not thrilled about the idea of driving 20 miles to get my car fixed, but I'm so glad I did and I would do again in a heart beat. That place and those people totally rocked it out. I felt cared for. I felt good as a human being in the space. I appreciated the detail and I remembered the effort. They made an impact.
And get this, because this is important. I am blogging about Progressive today. I will send this article in my newsletter. I will put it on my website and I will post it to social media. Who knows how many people are going to read about how wonderful my experience was with Progressive Insurance. Will I tell my friends and family about my experience? Of course. Will I switch my insurance company to Progressive?? Perhaps.
Do you see how critical branding is? When you have a clear vision, a single-minded intention and you execute on that vision, your branding becomes a very powerful asset for your company. You don't have to work so hard in your marketing because you begin to develop a reputation and a vocal following.
So let me ask you, are you a "Progressive" thinker or just another ma and pa shop?
I love to hear your voice!
When was the last time you were impressed with a company? What did they do right? What can you emulate?
Post your answers below in the comments or find me on Facebook.

If you would like to use this article on your website or ezine, feel free! Just be sure to include the following:
Heather Poduska is a brand strategist, business coach and opera singer who helps entrepreneurs and small business owners create client attractive brands, polished brand images and brand communication strategies to increase their visibility and impact in the marketplace and grow their businesses.